【Nury's Updates】Five news diary items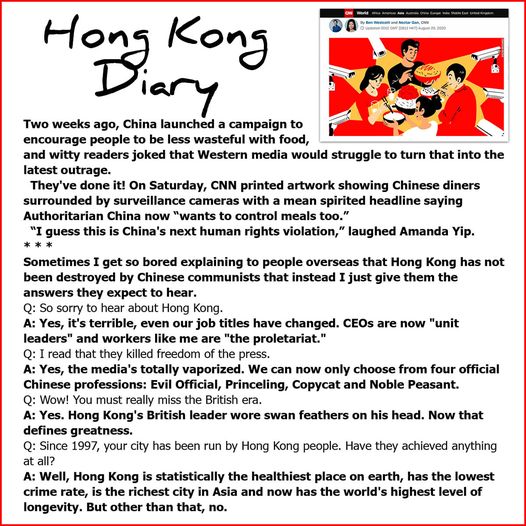 FIVE NEWS DIARY ITEMS
1) TAIWAN LAST YEAR: "Radical protesters from Hong Kong will be welcomed with open arms." TAIWAN LAST WEEK: "Criminals attempting to enter Taiwan illegally will be prosecuted with the full force of the law."
2) Great news! Former Hong Kong lawyer Gordon C Chang has announced that America is about to topple the Chinese government. "Regime change is our only realistic China policy," he said at the weekend. Whatever Chang predicts (he wrote the book The Coming Collapse of China in 2001), the opposite happens.
3) The Hong Kong government really does have terrible PR skills. If they want people to sign up for Covid testing, all they have to do is point out that it's free, while businesses offering the exact same thing charge HK$1,800 a person, or HK$7,200 for a family of four. Who can resist a freebie like that?
4) Writer James Felton was interested to see a newspaper headline at the weekend which said: "Thousands of anti-lockdown protesters gather in London to claim coronavirus is a hoax."He said: "This will be a massive relief for the 835,000 dead."
5) Big news for parents: Hong Kong government rules mean that cinemas are forbidden to sell those wildly overpriced buckets of popcorn and fizzy drinks, so in a couple of months you'll have saved enough money for a Lamborghini.

Nury Vittachi is a Hong Kong-based journalist and author, who gained fame through his witty comedy-news writing. He deviates from the conventional "journalistic" style and uses creativity to expand the meaning of journalism. His work does not just make you laugh, but reflect.
This story was first published on Nury Vittachi's Facebook.