By Li Wen
Sunday, 15 March, a beautiful and bright day in Hong Kong. While most Hong Kong people are still living in fear of Coronavirus, I found myself heading to Prince Edward MTR Station to join a street campaign fighting for a new law in Hong Kong: Basic Law Article 23, a national security law that ignited the mass protests in 2003.
The street campaign, comprising the setup of weekly street booths, was organised by volunteering citizens to gather signatures in support of Article 23. It is in tandem with an online petition in favour of the proposed legislation.
I have always disliked joining political exercises as I am not the type of person who likes to confront others or stand at the frontline of any campaign. However, I feel that this particular legislation is necessary for the security of the community and I feel duty-bound to provide my support. The non-stop violence that has ravaged the city for more than 9 months has not abated. The time for Article 23 is now. The community needs to be protected and public security can only work if there are laws to establish and maintain peace for all.
In the initial street action, 36 street booths were established across the city, and I volunteered in one of them. Prince Edward subway station was a hot spot during the protests. This was, perhaps, due to its proximity to the Mong Kok police station. Over the protest months, the police station was attacked with firebombs and black shirt actions every weekend.
The protestors even turned the exterior of Prince Edward MTR Station into "graves" to worship non-existing "dead people". The unsubstantiated rumours posted through various media outlets claimed that scores of protestors had been "killed" by anti-rioting police as they arrested protestors inside the station on 31 August 2019. It is a known tactic, prolonging the hatred and thus the protests.

2:00 p.m. I arrived at Exit A of Prince Edward Station to find a group of about 30 volunteers, holding banners and handing out leaflets in support of Article 23. Meanwhile at the street corner, messages were broadcast in explanation and support of Article 23. The volunteers, in casual clothes and consisted of middle-aged men and women, urged passers-by to sign the petition. All wore face masks so that their identity would not be exposed to the violent gangs.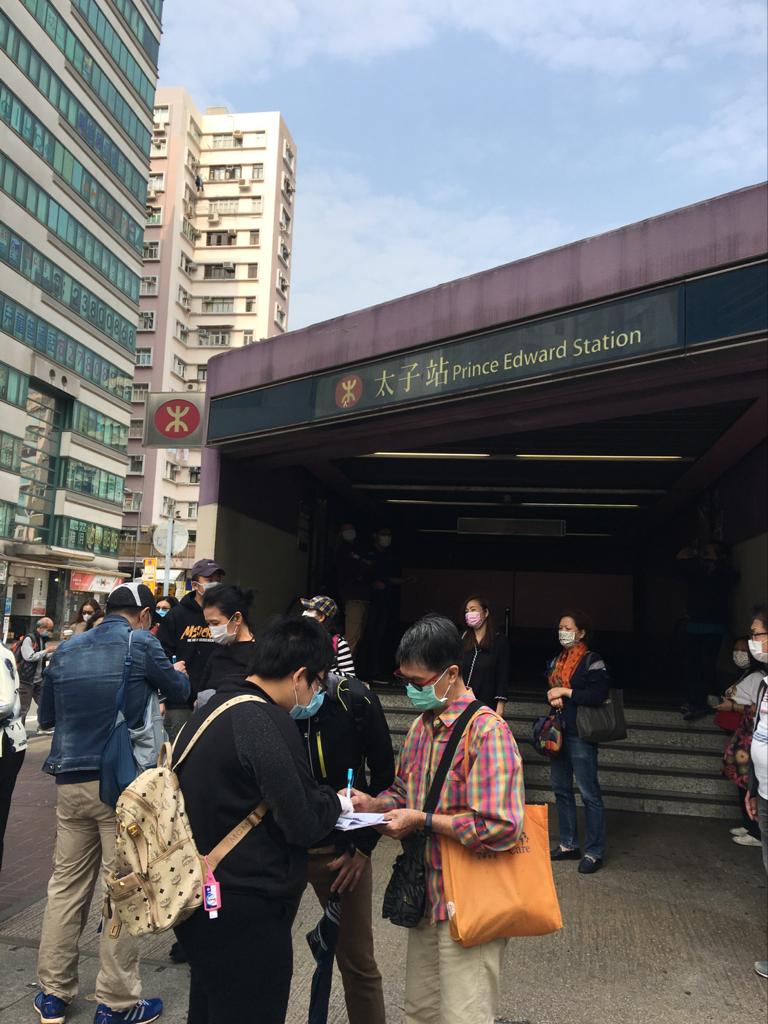 To draw attention and also to emphasize their intentions, the volunteers chanted "Support Article 23", "Save Hong Kong", "Save Yourselves" and "Stop the violence in Hong Kong".

The enthusiasm of the volunteers was admirable and I soon joined in with equal emotion and passion. It was obvious that they were sincere and fully committed to the action to restore peace and order in Hong Kong. This made me feel proud and infused me with passion to support their efforts.
I was a volunteer like them which is in complete contradiction to many of the protesters who were funded by special interest groups. We were in the "blue" camp (a nickname for those who want stability and generally support the government). Our "special interests" are to save Hong Kong from falling into chaos, destruction and massive disorder. Article 23 will enable law to restore order and bring Hong Kong back to normalcy.
Given the earlier violence, I admit that I felt a sense of fear as I worked at the booth. "Protesters had declared Article 23 as the devil's doing. Would I be beaten up as I supported it?" It was only later that I learned that there were other volunteers whose role was to protect us. Still, I decided that at the first sign of trouble, I would take flight.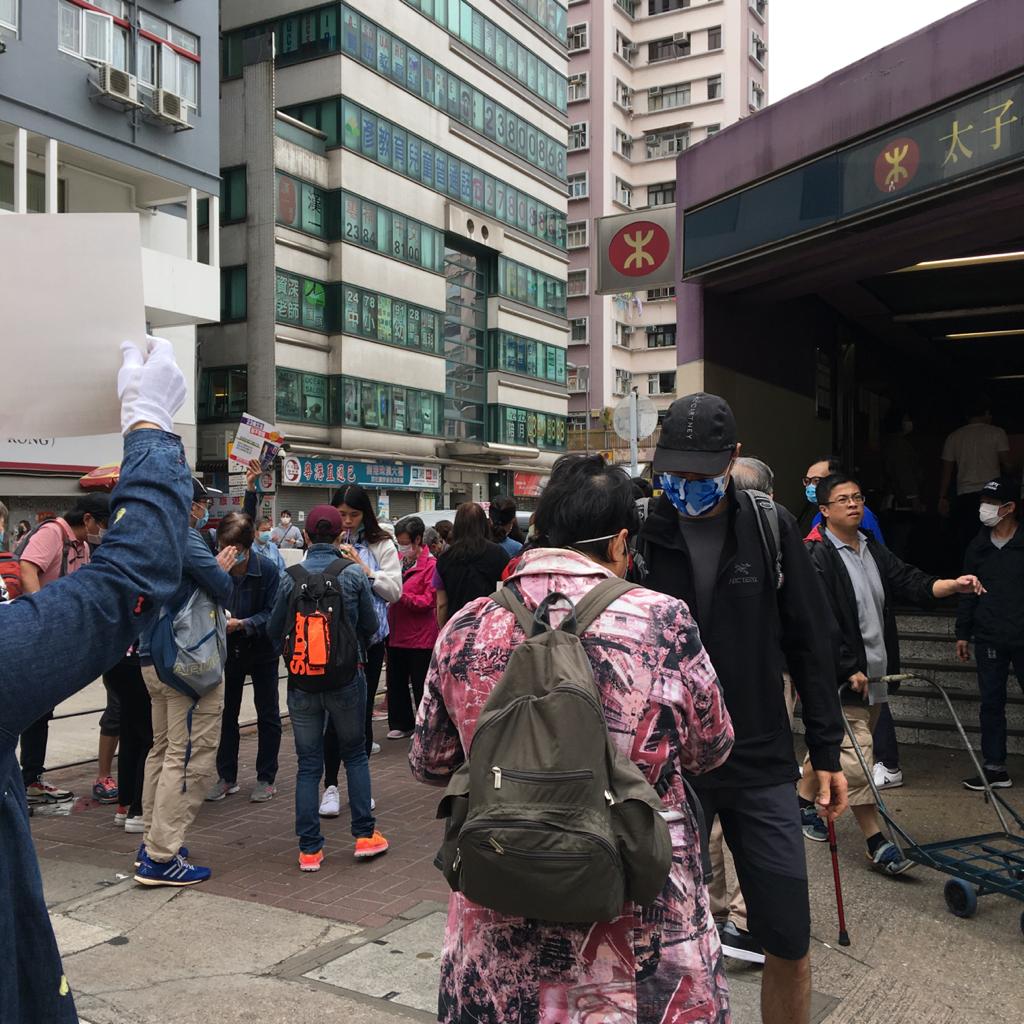 2:10 p.m. I was now actively waving the posters and even joining in with the occasional chant, gathering strength with each chant. It was the first time in my life to chant a slogan, but I was not shy at all as I felt that it was my mission to help the society.
Pedestrians kept passing by. Would no one stop to offer their support? I was rewarded shortly after by a number of people actually stopping and putting their names on the petition. Success! It felt good.
I noticed an interesting phenomenon: those who wanted to sign would naturally come forward, without the need to persuade them. Those who were unwilling to sign would avoid eye contact with any of our team members. Then there were those who were openly hostile and would hurl insulting remarks at us.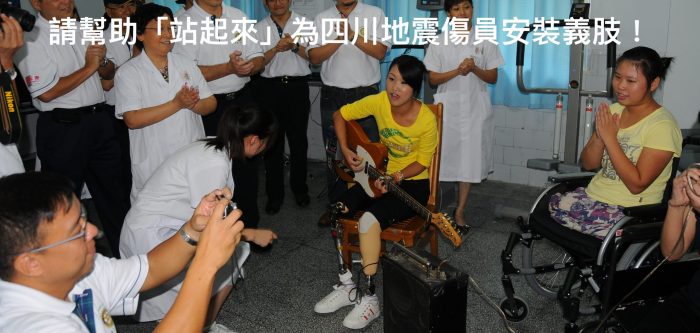 2:35 p.m. A middle-aged man approached me with a broad smile. He was in his 40s, average looking and dressed in a casual outfit. He spoke with me in a very cordial and sincere manner. After signing his name, he asked if he could join us.
I asked him why he wanted to join us. He said that back in 2003, he did not support Article 23 as he was misled by the misinformation of the local media in Hong Kong. "It wilfully painted Article 23 as depriving Hong Kong people of basic freedom," he said, shaking his head.
But his heart changed after witnessing what happened over the past 9 months of protests. The man said that he was angry to see the foreign intervention in damaging Hong Kong's peace and order through the organized riots since last June.
"Students were brainwashed by the Liberal Studies subject manipulated by teachers, as well as by the local press and social media, to rebel against the government and to hate their own mother country, China," he said sadly.
He, therefore, decided that the enactment of Article 23 was badly needed, adding that there must be actionable laws in Hong Kong's legal system to penalize all who wish to upset Hong Kong's administration and seeking a separance from China.
"My own children," he continued. "have also been brainwashed to feel resentful towards the Hong Kong government and China itself.
"Most parents of my age have resigned themselves to the fact that their children are the lost generation.
"They are ruining both Hong Kong's future and their own."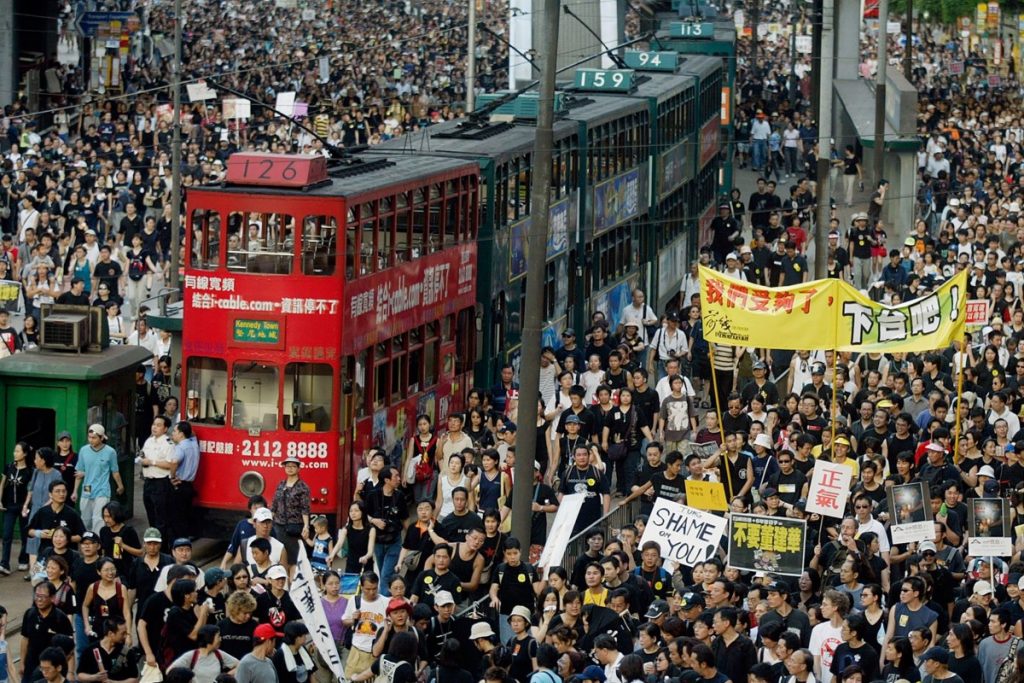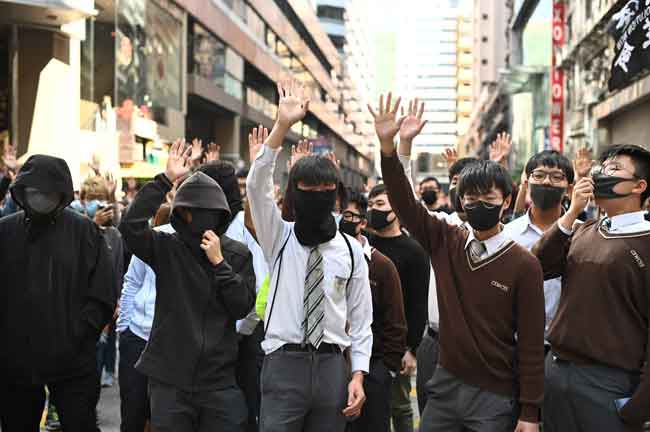 2:40 p.m. A pair of loving parents with their two adult children came by. They looked joyful and were eager to sign up. The two children were in their 20s and were equally enthusiastic to join their parents in signing their names. The parents congratulated us for our courage to lobby for signatures in support of the article. On departing, they gave us a thumbs up and remarked, "add oil".
It was a boost to our group and demonstrated that there are adults who are prepared to set good examples for their children. If their parents are kind to others and care for society, the children will follow suit.
2: 50 p.m. Just when I was enjoying the euphoria of the supporting people, a shock presented itself.
A rather nasty-looking young couple in their late 20s walked past me. The man wore a black vest and the woman was sloppily dressed. The man raised his voice swearing DLLM at us – a Cantonese swearing slang, meaning literally FXXK your mum. We just ignored them.
In our generation, most youth who attained a certain level of education would not swear, and certainly not in public. Not so with those protestors who have a limited vocabulary. For them, swear words fill in the gaps where they are unable to express themselves with the proper words. The protestors even string swear words together as lyrics in a protest song. I am sure their parents would be ashamed to hear their children sing such a song.
3:00 p.m. I was greeted by an old man who was poorly dressed. "Hong Kong must have universal suffrage before Article 23 is approved."
I asked him to explain, but he could not. My view is that if Hong Kong has Article 23, we will be able to resist foreign interventions. Then the Central Government would consider expanding the voting rights of Hong Kong people. I asked the man if he would add his name to the petition, but he merely shook his head and walked away.
3:10 p.m. I was confronted by another old man in his 70s who shouted loudly and angrily at us. "Why don't you guys just go back to mainland China!" After he was gone, two more passerbys echoed the same remark.
I am so surprised to know that not just the youth have been brainwashed to hate China, but also some of the older generation. But the flip side of the coin appeared with the next encounter.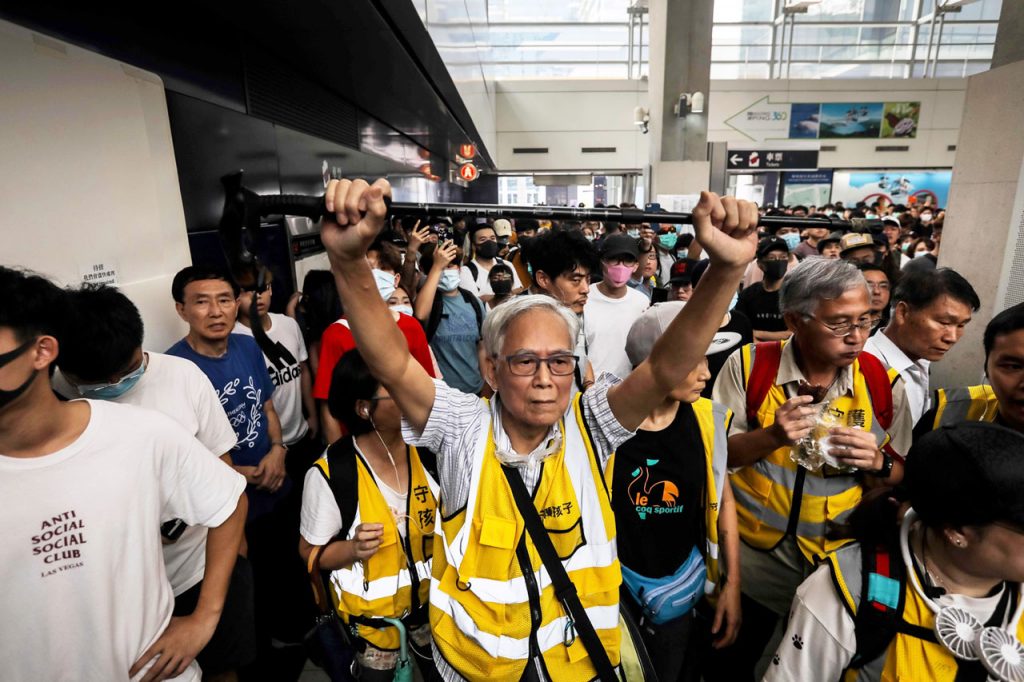 3:15 p.m. A fragile old man staggered towards me with his walking stick. Panting heavily and with his trembling voice, he explained that he had come all the way from Tsuen Wan to Prince Edward as he could not find our booth elsewhere. I thanked him profusely for making the great effort.
"It is my obligation as a national citizen of China to support this campaign," he said with a weak voice. "It is essential for the restoration of law and order in Hong Kong and the enactment of Article 23 can be an important step."
My joy was short-lived as the next encounter was with a young couple in their 20s who made a rude gesture with their hand and swore at us. Their eyes were filled with mockery and hatred.
3:40 p.m. Next, a 50 something woman, with dyed brown hair with gold highlights, deliberately pointed her two fingers savagely at each of us. With sullen eyes filled with contempt and hatred, she insulted us with lots of swear words. She finally walked off furiously and disappeared.
Needless to say, I was shocked to learn that a lot of people in Hong Kong have the misguided notion that the law is "evil" when in fact it is actually meant to protect us. Seeing this type of opposition undermines somewhat my belief that Article 23 could survive. But a ray of sunshine came through.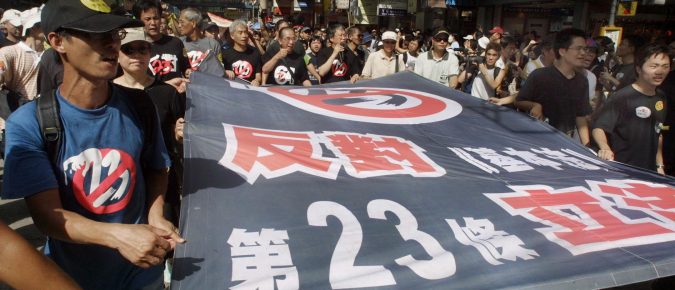 A short moment later, a warm and kind hearted woman in her 40s offered to sign up. She said she was seriously disappointed with most of the people from the "yellow camp". This is the local description of Hong Kong citizens who support the occupy-central protests back in 2004, the ongoing anti-extradition protests, and are full of anti-government and anti-China sentiments.
"All cities in the world have public security laws except Hong Kong and the establishment of Article 23 must receive top priority by the Hong Kong Government to save Hong Kong from a complete demise," she said.
No argument from me. Certainly, Hong Kong needs to revisit Article 23 and consider criminalisation of calls for independence, sedition, secession and treason to combat the current social unrest, violence and riots.
These incidents have been destroying the very basic core value, harmony, peace, security, law and order of Hong Kong. The harsh reality is that without a national security law, Hong Kong has already plunged into the chasm of endless political disaster and perilous turmoil.
4:00 p.m. A tall and handsome young man in his early 20s came forward. Given his age, I assumed he would be a "yellow" camp man who had come to shout at me. I was surprised to be greeted with a pleasant smile and he signed up immediately. I asked him the reason for his support. His simple answer: "I simply want peace to be restored."
Just at this moment, I noticed a group of five to six of youth, clustered at the front of the MTR exit, giving us unfriendly looks. They kept taking photos of us, while making phone calls on their mobile phones and whispering amongst themselves.
I was worried and immediately told several volunteers who were responsible for the booth. They said that I did not need to worry as there were people protecting us. I was greatly relieved. After hanging around for about 15 minutes, the boys departed.
4:20 p.m. Another young couple walked by. The woman was genuinely supportive and she gave me a rather engaging smile. But the man next to her, who was probably her husband, looked impatient and could not wait to leave.
The man told me that he had a little store in the marketplace within a government estate managed by Link Real Estate Management, which he referred to as a "blood-sucking vampire". In face of the austere economy caused by the recent riots and this lethal pandemic, his business had suffered a huge blow but the landlord had refused his plea for a rental reduction.
The man reiterated that he really was in no mood to entertain any political petition while he was struggling to raise his family.
4:35 p.m. A wide-framed woman, around 50, shouted loudly "Article 23 is an evil bill!" She told us to return to mainland China. One man came out of nowhere and took photos of her. Instantly, she was incensed and knocked the man's mobile phone to the floor.
The two then engaged in a heated argument. I quietly went away and videotaped the whole occurrence from a distance. This bickering lasted for approximately 15 minutes before the woman finally left. During this disruption, our other team members continued to gather more signatures diligently.
To my surprise, there were not too many onlookers. Sadly, Hong Kong citizens have gotten used to the past 9 months of public disorder, and took such incidents as commonplace.
We were supposed to finish by 5 p.m., but we extended our rally for another 30 minutes as there came many unexpected newcomers offering us their signatures.
5:30 p.m. I called it a day and returned home.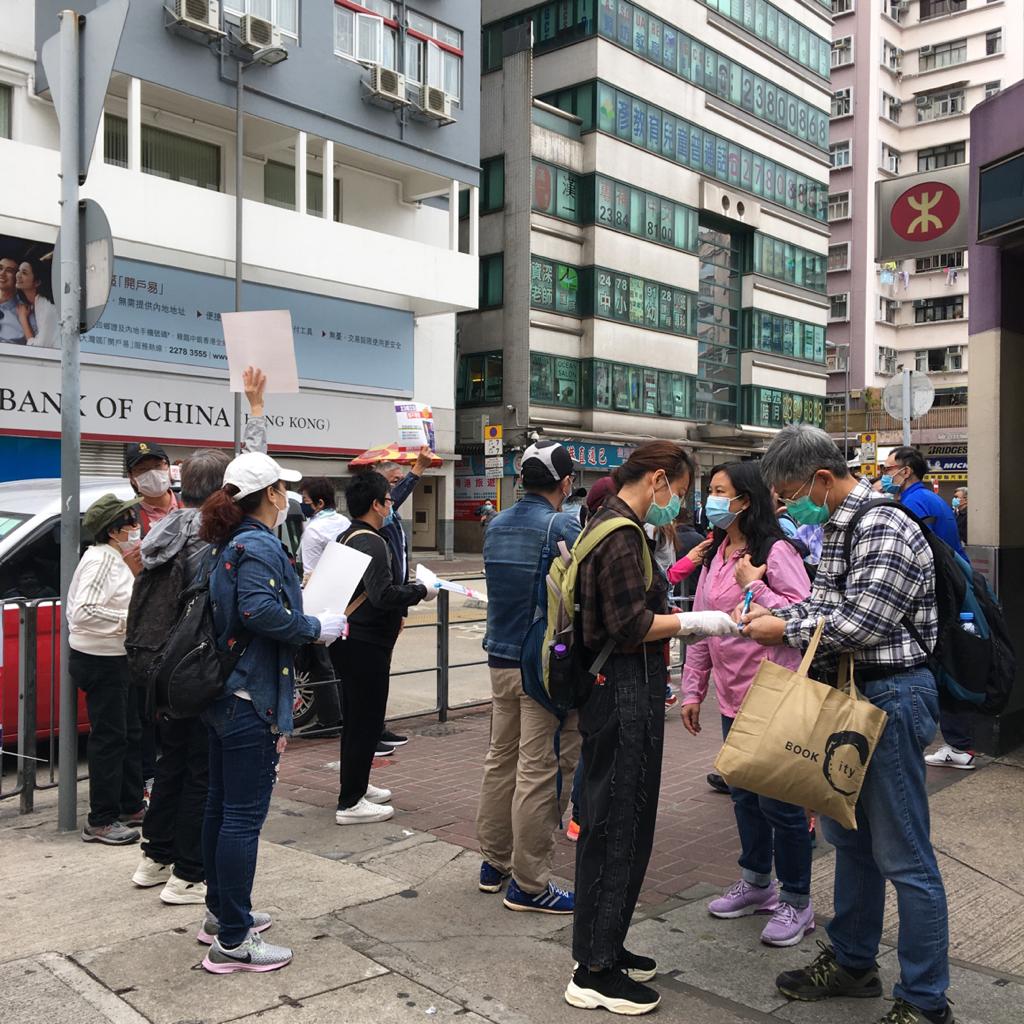 This volunteering experience was an eye-opener for me. It gave me insights into a sampling of the different responses of the Hong Kong citizens towards Article 23 – some pros and some cons.
Witnessing the commitment and dedication of our team of volunteers, to save Hong Kong out of love, has deeply touched me. Their courage of putting their lives at risk, by actively lobbying Article 23 in the open, makes me feel obliged to join them again next time.
As a citizen of Hong Kong, I truly hope our city can return to its old values, to be free from negative media influences, political turbulences and foreign interventions. To achieve that, we need a national security law, something really basic to ask for.
Today, our campaigners have altogether collected a further 50,000 signatures from the public across Hong Kong in support of Article 23. It is a small success, but it has brought us nearer to our goal.
There is a feeling of satisfaction and peace in doing something we feel to be right and that feeling uplifted me as I returned home. I am a citizen of Hong Kong, my home.
Li Wen is an entrepreneur engaging in architectural project design and consultancy. Disheartened by the political turmoil that has split Hong Kong, she has expressed her feelings through her writing which she hopes will allow people to understand and unite for a better Hong Kong.