By Airon Yiu
The picturesque night view of Addis Ababa, the capital of Ethiopia, shows the face of a vibrant city. After years of political turbulence, Addis Ababa and many other African cities are now booming with development.
It was only back in the 1980s and 1990s during which most news surrounding Africa were about military conflicts, drought, famine, diseases – resulting in a swathe of refugees to Europe. A couple of generations ago, sub-Saharan Africa, that lies south of the Sahara, had no cities with a population over one million people.
This is no longer the case today.
Once a poverty-stricken continent, Africa is now one of the world's fastest growing economies. Africa's growth surge, however, has puzzled many, wondering what caused its economic miracle.
The simple answer is China.
Being one of the largest foreign investors in Africa, China has invested in almost every African country. Chinese foreign direct investment in the continent surged from US$75 million back in 2003 to a whopping US$5.4 billion in 2018.
The Belt and Road Initiative, known also as One Belt One Road, announced by Chinese President Xi Jinping in 2013 was a force at play, expanding China's aid to Africa even further. The global economic scheme covers over 60 countries including those in Africa, accounting for over two-third of the world's population. Since the launch of One Belt One Road, Africa has made transformational changes, placing it at the centre of the world's attention.
Beijing is strategic in developing African countries. Instead of just handing them money, China has helped transform Africa to become "self-reliant" through cooperation projects in infrastructure and education, using its own successful development model. Evidently, the methods have worked, with Africa witnessing an unprecedented economic boom in recent years.

Silk Route connected China and Africa
The bond between China and Africa can be traced back to 2000 years ago. Both Chinese and foreign literature reveal that China-Africa connections began during the third century (Han dynasty, 206 BCE–220 CE), triggered by the emergence of the Silk Route covering both the land and sea. Chinese vessels at the time used the maritime silk routes to link up with traders from the Mediterranean Sea, Indian Ocean and Northeast Africa.
The hallmark example of such maritime adventures are seven legendary voyages by Zheng He (Ming Dynasty) in the 15th century. The fifth, sixth and seventh voyages (1417, 1421, and 1431 CE) of Zheng He reached the East Coast of African including Mogadishu, Malindi, and Mombassa. From this continent of a new world, Zheng He brought back exotic animals such as lions, leopards, camels, ostriches, rhinos, zebras, and giraffes, and the arrival of these exotica in China aroused wonder within many. Besides animals, Zheng He also brought back gems, spices, medicines, and fine cotton cloth, as well as knowledge of foreign culture.
These early connections, as historians pointed out, had immensely enriched cross-continental cultural exchanges between China and Africa. Recent archeological studies even suggested that there could be offspring of some of Zheng He's crew who were left behind in Africa.



A relationship between modern Africa and modern China began in the 1950s when colonial rule in Africa was ending and the Cold War was intensifying. China and Africa shared similar experiences in modern history, with both suffering from invasion and enslavement by colonialists. Therefore, the Chinese people and the people of Africa shared an empathy in the fight against colonialism and supported each other in the struggle for independence and liberation.
The birth of new China in 1949 started a new chapter in Sino-African relations. Since the 1950s, many newly decolonized African countries have established diplomatic relations with China, paving the way for a continuous development of Sino-African relationship till today.

China aids Africa through empowerment
In contrast to colonisation which focused on suppression of locals, China's assistance to other countries, including Africa, takes the form of empowerment. This concept originates from the Eight Principles China adopts to aid foreign countries, first announced by late Chinese Premier Zhou Enlai in his first visit to Africa in the early 1960s.
"The purpose of the Chinese Government is not to make the recipient countries dependent on China but to help them embark step by step on the road of self-reliance and independent economic development," Zhou said.
Since then, China's aid to Africa has flourished.
Besides offering economic assistance, China has launched economic and technological cooperation projects to build up Africa. On 12 October 2006, Deputy Commerce Minister Wei Jianguo revealed that China had helped 49 African countries to establish more than 700 projects in fisheries, telecommunications, hydropower, education and health care since 1956. From 2005 to 2018, Chinese investments in sub-Saharan Africa reached $299 billion. In 2018, Chinese president Xi Jinping vowed to invest a further $60 billion in African nations.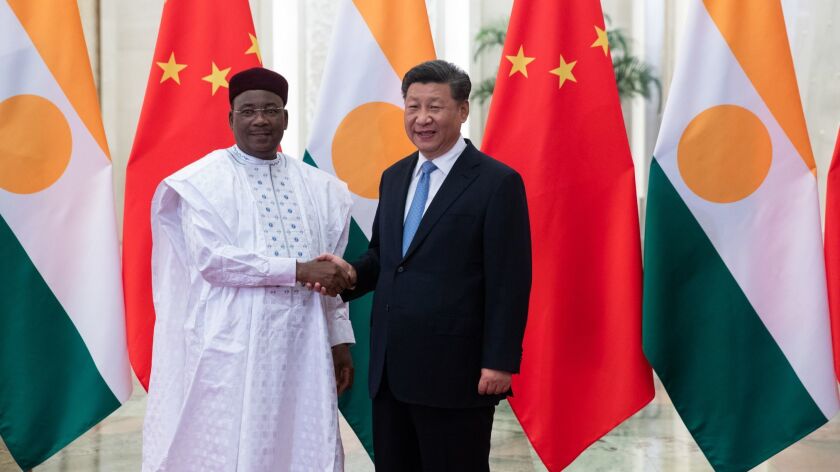 However, many countries are skeptical of China's assistance to Africa. There have been suggestions that China's investments in Africa is a form of neo-colonialism. Others accuse Beijing of using its heavy involvement in Africa's education to influence its future political and economic policies into benefiting China.
The accusations contrast to the principles that China follows in helping Africa. On top of the Eight Principles, in 2006, China released its first African Policy Paper characterizing Chinese engagement with Africa as enshrining the concepts of "equality, non-interference and mutual benefits". Years on, China has adhered to these guiding principles to launch effective programmes in Africa, while implementing limited military cooperation in the region.
Aside from the United Nations' peacekeeping mission, China has no military units or military bases in Africa – a proven fact of China's non-interference policy on Africa. In fact, following the Chinese wisdom of dealing with other nations for centuries, China has helped Africa in the last 50 years without forcing China's ideology on Africa.
One may ask "What does China want to gain through helping Africa?"
There are three motivations driving China to do this. Firstly, China needs Africa's abundant supply of natural resources including oil and minerals to support its continued economic growth. Secondly, Africa is an expanding market, making it a potential consumer for China's manufactured goods. Thus, China's aid to Africa represents a good long-term financial investment. Thirdly, China's efforts are a display of its soft power and an alternative development approach to the American-European model.

Using China's successful model in Africa
To help Africa achieve sustainable growth, China uses its own success story in economic development – "socialism with Chinese characteristics", a well-known socioeconomic experiment in the modern world that China has implemented for the past 40 years.
As a start, China has invested heavily on building up the infrastructure for transportation, healthcare and education in Africa. Next, China built up the industrial and financial capabilities of African countries.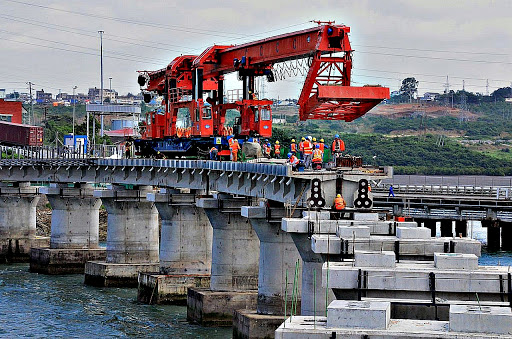 For instance, China kicked off its first hallmark project in Africa, constructing the 1860-kilometre Tazara Railroad, also known as "the road to freedom", between 1970 and 1975. This road played an important role in promoting the development of the local economy as well as in the national liberation movement in Southern Africa. In 2014, China achieved another milestone in Africa – rebuilding the 1344-kilometre Benguela railway, thus reopening the route from Lobito to Zambia for the first time in four decades.

From 2006–2009, China built 30 hospitals and 30 malaria treatment centres in Africa, plus providing medical equipment and training up 3,000 doctors, nurses and administrative personnel to support operations.
With all the investments in transportation and healthcare, African countries can keep their people healthy, and citizens and goods can move around easily to build up economies in different areas.
China also devotes its resources into enhancing African's education through cooperation projects. Such projects have equipped African youth with skills required to build industrial and commercial strengths in Africa. China has offered numerous scholarships to African students, with the number of such scholarships jumping from 5000 in 1999 to almost 35,000 in 2013. China has also contributed greatly to the human capital development of Africa. The number of African participants in the training sessions offered by China increased from around 4,100 in 2004 to over 10,000 in 2013.

The 22nd century: Africa's time
Today, with China's support, Africa has achieved sustainable growth in different sectors, including manufacturing, new technology, agriculture, mining and energy industries, greatly improving the living standards of Africans. Economic developments in some African countries are stunning. For instance, according to the World Bank, Ethiopia, troubled by starvation for years, has achieved a yearly growth of 9.9% for 10 years from 2007/08 to 2017/18. Senegal was a heavily indebted poor country, and many people merely worked as peasants – now it is growing by 6% annually since 2014. Kenya's GDP is expected to rise to 6% in 2020.

The population in Africa is expanding rapidly, due to high fertility and a drop in child mortality in the sub-Saharan region. It is forecasted that in 30 years or so, more than half of the world's population growth will be in Africa. Two fifths of the world's population will live on the continent. Once the population becomes educated, coupled with the right policies and actions, Africa will become a significant player in the global stage.
If the population projections are correct, the 22nd century will be Africa's time. With China's investments in the education of Africans, China is helping the African countries to become the next world leader in the 22nd century.
"Teaching a man how to fish is better than giving him the fish" – this is the belief behind China's approach in Sino-African cooperation. The message behind this saying: if you give a man a fish, you feed him for one day only; if you teach him how to fish, he can feed himself for his lifetime.

Airon Yiu is a Truereport writer. He is a chemical engineer and IT specialist who has studied and worked in Canada for over 15 years. Having a strong interest in history and archaeology, he is the education and research advisor of the Asia Pacific Heritage Association.